In his latest Gotham Gazette demographics column "Census Could Set Off Major Redistricting in State," Social Explorer's Andrew Beveridge writes about the upcoming Census and its impact on representation for New York State legislators and congressional representatives.
Maps of New York State Senate Districts Showing Deviation from Ideal Population Size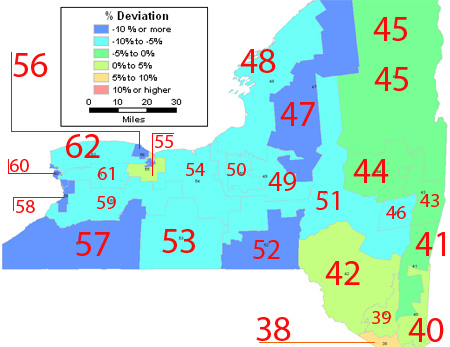 He makes predictions about the loss of a congressional seat, and the partisan battles and demographic realities of reapportioning the state legislature.  He unpacks the history of the 2000 State Senate redistricting proposals and the significance of the continuing decrease in the upstate population and the increase in the downstate population.
He also discusses the potential impact of the Census's recent announcement that it will offer separate counts for prisoners and other group quarters residents.
New York counts prisoners as being residents of the place where they are incarcerated — not the community they came from. Given that most prisons are upstate and many prisoners are from the five boroughs, this inflates the upstate population. Any change in that would have the effect of decreasing the number of people counted for redistricting upstate even further.
Click here to read all of Beveridge's Gotham Gazette columns.