The School Divide Starts at Kindergarten
The recent baby boom in New York City led to an increasing squeeze in the search for the best school for the budding kindergartner or first grader. Unlike other recent spurts in enrollment, the latest surge has had the great effect in Manhattan, especially among highly affluent non-Hispanic white families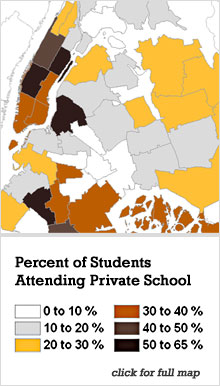 The number of white toddlers (ages 0 to 4) in the city has increased greatly. In decades past, white families and more affluent families would often leave New York City for the suburbs, where the schools were small and elite (at least according to who lived there) and open to all residents. Now more of these families prefer to stay in New York City.
The impacts of the new trend are reverberating throughout New York City's elementary schools — public and private, elite and neighborhood. One of the city's top elementary schools, Hunter, saw 1,550 children apply for 48 slots. The large increase in students sitting for the private school exams document that this is indeed the year of the crunch.
Many affluent parents have seen public school Gifted and Talented programs as a viable – and free — alternative to private schools, but critics have long maintained the system unfairly favored these children, shortchanging those in poorer black and Hispanic areas. This year the city adopted a standardized test with uniform standards to select those eligible. However, we now know that this method resulted in a much less diverse program according to the New York Times.
Finally, just getting ones child into a neighborhood school seems to have turned into a difficult process for some. Confusion, competition for limited slots and changes in the selection methods for the relatively few desirable elementary programs seem to be the order of the day.
Read More http://www.gothamgazette.com/article/demographics/20080626/5/2566